Welcome to Fredericksburg
Fredericksburg is the best of both worlds and has something for everyone. From natural treasures and live music to culture and award-winning wine. Come see why Fredericksburg is the perfect place to call home.
1. The Lifestyle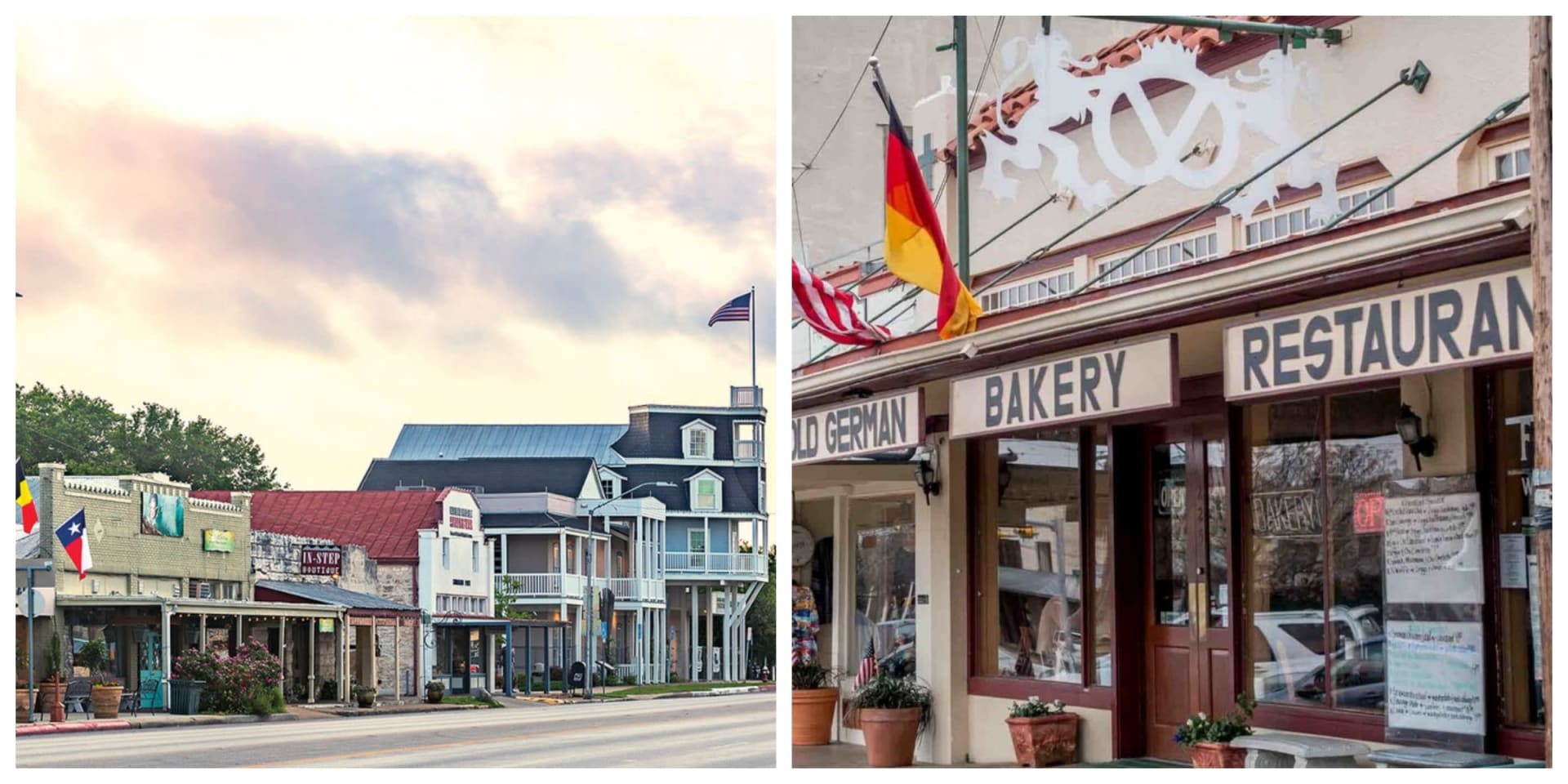 Fredericksburg is a lively, small city with a small-town feel. From live music, culture, national historical landmarks, museums, award-winning shopping, Texas wine country, and festivals to county fairs, Fredericksburg has it all. There's always an opportunity to come together and enjoy the small pleasures of live music and a nice glass of wine or explore the natural treasures of the great outdoors. Fredericksburg schools are highly rated and the area has a low crime rate, making it especially ideal for families. Whether you're looking for your first home or your dream home (or both), Fredericksburg is just what you've been looking for!
2. What to Expect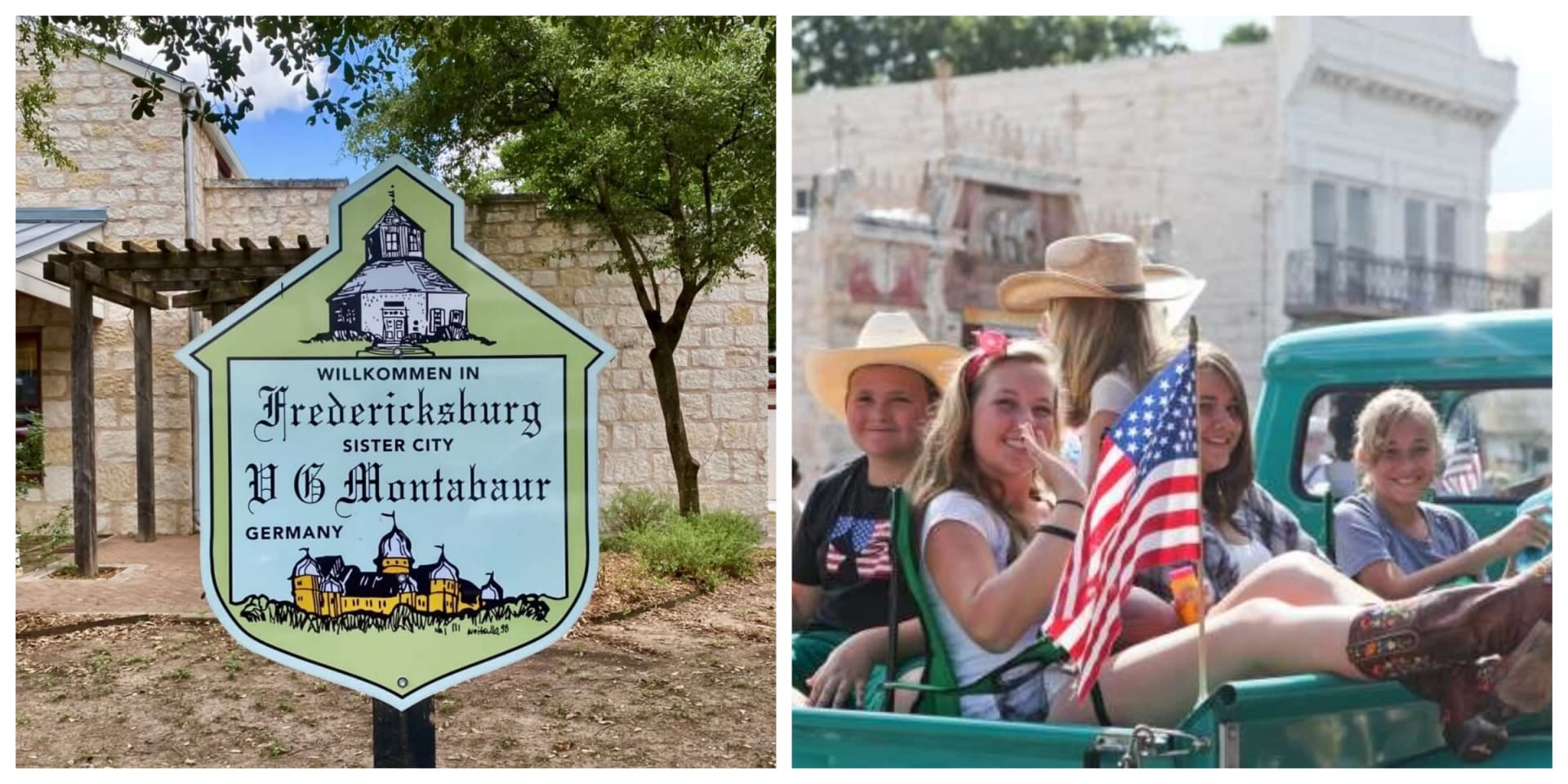 The deep-rooted history of the German immigrants that founded Fredericksburg in 1846 gives this small city its charm. Fredericksburg began as a farming town and has since flourished into a vibrant city booming in tourism and for its wine, live music, award-winning shopping, and festivals. Neighbors are friendly and always ready for a good time. With so much to offer, Fredericksburg is surely a place to create lasting memories for years to come!
3. Appeal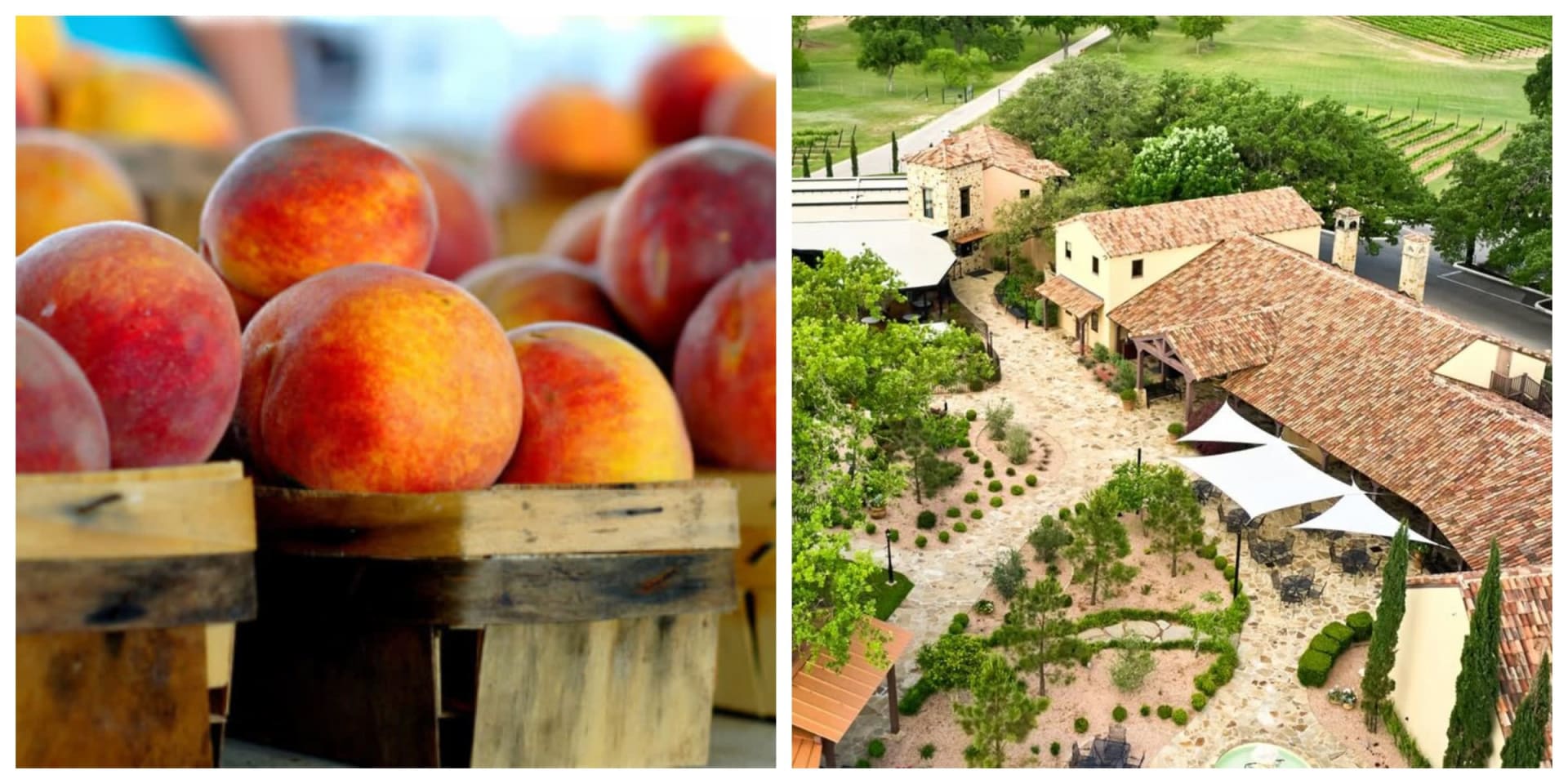 Texas Hill Country has quickly become a popular wine destination and Fredericksburg is at the heart of it all! With over 50 wineries and vineyards, Fredericksburg welcomes tourists from near and far to experience award-winning wines and breathtaking landscapes. Wine, however, is not the only thing Fredericksburg is famous for. From May through August, Texans and tourists alike visit Hill Country to experience the fun of picking their very own Texas peaches. Check out our peach-picking recommendations and delicious recipes!
4. Fall in Love With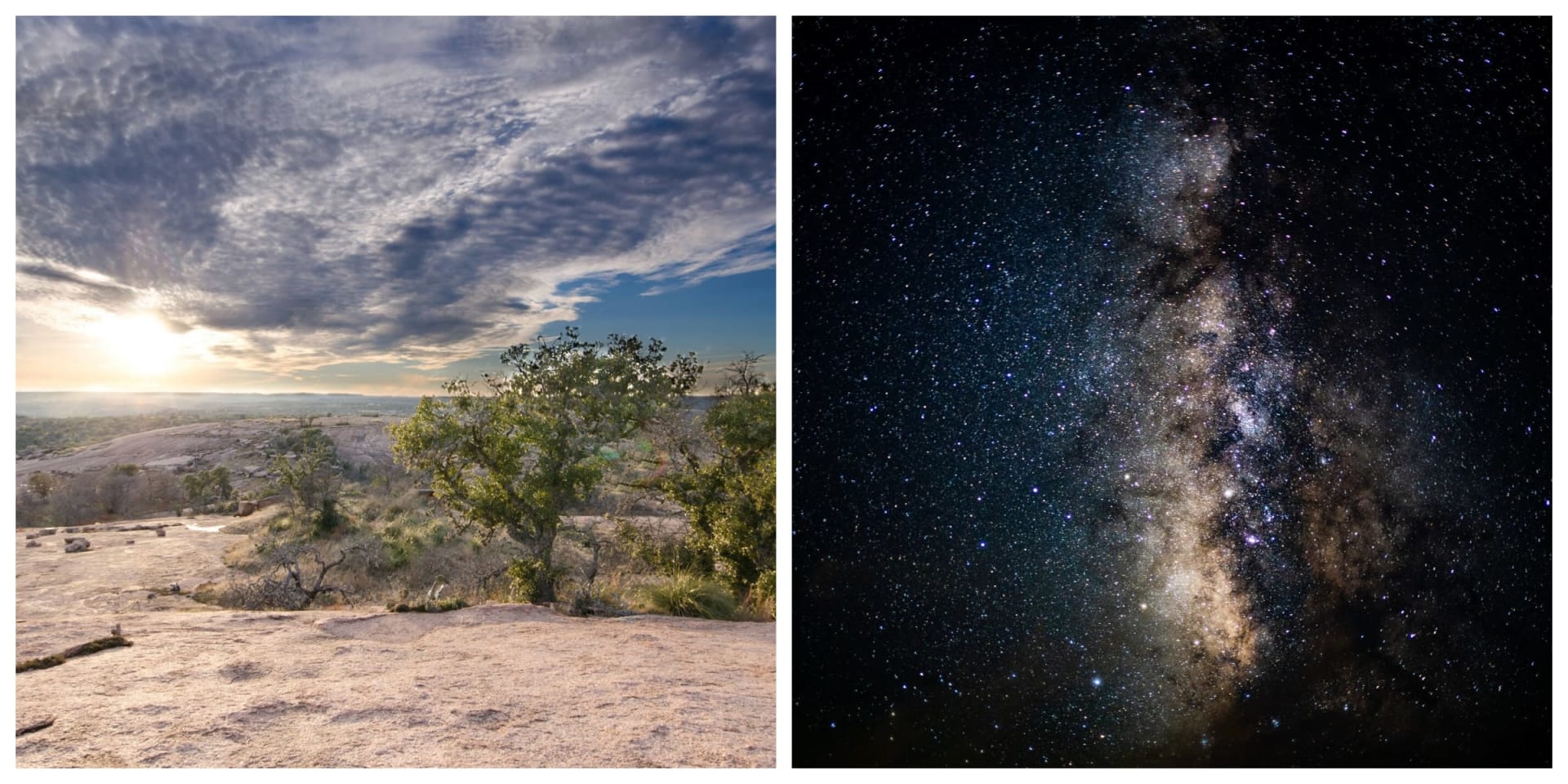 Enchanted Rock is one of the most heavily visited parks in the state park system and for good reason. Located 18 miles north of Fredericksburg, this National natural landmark is known for its breathtaking views of the terrain by day and the starry sky by night! Enchanted Rock has fascinated visitors for thousands of years and has sparked many legends about the rock's "enchanted" nature. This pink granite dome stands 425 feet above the ground and makes for a great day out in nature. Visitors can camp, hike, rock climb, and stargaze for a small fee. The hike to the top of the rock is only .6 miles, but don't be fooled by the distance, this hike is steep. For those who would prefer a less challenging walk, the Loop Trail is a four-mile hike around the rock. If you find yourself at Enchanted Rock at night, don't forget to look up! Happy trails!
5. Other Details
Neighbors
Commute Times
Austin (1.4 hours by car via US-290 W)

San Antonio (1.1 hours by car via I-10 W and US-87 N)
Fredericksburg Real Estate Market
Cool Water
:
Nine miles northeast of Fredericksburg, the 463-acre Cool Water ranch development features 56 parcels of land for fine country living with plenty of space and privacy. Lot sizes range from 4-16 acres, and some feature ponds and springs, with native wildlife regularly seen among beautiful, mature oak trees. From the high point of the neighborhood, residents get a great view of Gillespie county.
Price
: Prices range from $175,000-$400,000.
Admiral Heights:
One of the newest neighborhoods in Fredericksburg, Admiral Heights features 16 estate-sized lots of 12-15 acres each. With its hilltop views and appealing lots on the northeast edge of town, the development is just 3 miles from Main Street and is one of the best rural locations in Gillespie County.
Special Features
: Be welcomed home on Admiral Heights Boulevard through appealing iron gates and a white brick entrance. The subdivision offers stunning long-range views of the Hill Country, and native trees are scattered throughout the lush properties.
Settlers Ridge
:
The 150 acres that makeup Settlers Ridge are located just south of historic Mason, just off Ranch Road 1723. Beautiful home lots range from three to seven acres each or can be combined to create larger spaces for a sprawling homestead. Most of the land features both wide open spaces and mature trees. Atop the ridge you will find premier home sites that are heavily wooded and feature incredible views of the Llano River basin.
Boot Ranch
:
Boot Ranch is a private club community offering luxury Hill Country living and unparalleled family recreation in a rustic ranch life setting. With concierge services for activities ranging from golf to spa services, catering, wine tours, and activities for children like tournaments and their summer Adventure Camp, this community provides a level of service unmatched in the Hill Country.
Boot Ranch features lots with an extraordinary collection of new and resale luxury homes and homesites, and new residents are welcome to bring their own architect to design a custom home if they prefer. Portfolios of home plans that are fully customizable are also available. Contact the Fredericksburg real estate agents & realtors at Fredericksburg Realty to find luxury property, houses, land & single family homes for sale in Fredericksburg, Texas.
Special Features
:
Boot Ranch features a top-rated golf course designed by PGA legend Hal Sutton. The course measures 7,250 yards of premier golfing green.


The community offers a unique shared-ownership 'Sunday' House' option for those looking for part-time luxury living.



All property purchases include a multi-generational club membership for families.
Address
: 77 Boot Ranch Circle Fredericksburg, Texas 78624
Chula Vista
:
The Preserve at Chula Vista Ranch is a prestigious 365-acre gated ranch community just 10 minutes west of Fredericksburg. Seated on a unique, high mesa, the development provides breathtaking views of the Pedernales River Valley. Oak-covered lots of 3 to 28 acres are available, and have intentionally been left uncleared to provide privacy and quiet.
Special Features
:
A trail system is available to residents, with a scenic path meandering through a 20-acre nature area. Plus, with its 3+ miles of paved roads, there is ample space for walking, jogging or biking.


Buyers are able to combine lots to have the acreage they're looking for.


An existing ag exemption in the subdivision keeps property taxes low.

Price
:
Frieden
:
Fredericksburg's newest custom home community, Frieden was built to embody Southern aesthetics, values and lifestyle. Located two miles south of downtown, the 220-acre community features acres of open green space, premium amenities, and a dedication to strict architectural and sustainability guidelines to maintain a modern farmhouse style. With approximately 240 homes and 3 natural lakes on site,
Special Features:
More than 40% of Frieden's residential acreage will be maintained as open green space for residents to enjoy.


Amenities include miles of outdoor trails, an amenity center including a pool, modern barn event space and fitness center.



Buyers can collaborate with Frieden architects and builders based on 3 core designs to offer inspiration for your custom home.
Post Oak Lakes
:
Just north of the iconic Wildseed Farms, Post Oak Lakes subdivision sits 10 miles southeast of Fredericksburg with access to the Pedernales River. Featuring a private lake and park for residents, the neighborhood offers lots from 3-7 acres with homes that were built starting in the late 1990s to modern day with an assortment of styles, varying sizes and price points to choose from. The homes feature 2,000 to 4,700 square feet of living area.
Price
: Homes range from $370,000 to over $700,000 and lots range from $140,000 to $300,000.
Bear Valley Ranch:
Located 9 miles south of Fredericksburg off Highway 87, Bear Valley Ranch is a 280-acre historic ranch in the Texas Hill Country. A private gated community known for its beautifully secluded location, the Ranch offers 33 parcels of ranch home sites, with dense trees, seasonal creeks and springs. Home sites range from 4-14 acres, with some available for raising horses or tending orchards. Each tract ranges from 4.36 acres to 13.87 acres.
Special Features:
An agricultural exemption is in place, which keeps property taxes low.
Price
: Plots range from $125,000 to $300,000
Heritage Hill Country
:
Located just on the edge of Fredericksburg off of US 290 East, the Heritage Hill Country subdivision is a gated community for adults 55+ that features impressive facilities and 60 acres of beautifully-maintained grounds. Residents can enjoy the 5,500 square foot clubhouse with its fireplace, fitness center, library and computer center, and a large kitchen and dining area for private events. The grounds include nature trails along a meandering creek, koi ponds, woods, and elegant landscaping.
The development includes approximately 180 wooded tracts designed for single-family homes. With their brick and limestone exteriors, the subdivision's homes come with 2-3 bedrooms, 1,550 to 2,400 square feet of living area, and appealing high ceilings and front porches. Lot sizes average about 7,200 square feet, and some homes even overlook the creek.
Price
: Homes range from $275,000 to $425,000.
Hidden Springs
: Hidden Springs is a premier acreage development with 753 acres of spacious, agricultural land for a true community feel. Residents are treated to a classic Texas community lifestyle with a modern twist, with 5-10 acre properties with homesites that back up to spacious green areas covered in oak trees. Each property has space for gardens or farming, and residents can also share in the community gardens, orchards and natural spaces.
Special Features
: 30-acre nature preserve called "The Green" for an agrihood. Paths, butterfly garden to open-air community pavilion and playgrounds.
Address
: 10180 S. US-87, Fredericksburg, 78624.
Stone Ridge
:
Stone Ridge is a popular subdivision nestled in the hills just 2 miles north of downtown Fredericksburg. Featuring upscale homes with unique designs and immaculate landscaping, houses in this area attract buyers for their modern floor plans and Hill Country style. Known for its friendly neighborhood feel and quiet cul-de-sacs, this subdivision is home to lots of 1/3rd to 1 acre, beautiful winding streets, mature trees and vista views of Fredericksburg.
Address
:
102 Ellebracht Dr, Fredericksburg, TX 78624
Carriage Hills
:
Carriage Hills is an established neighborhood located north of Main Street in Fredericksburg, Texas. Featuring homes from as early as the 1970's to modern builds for the modern-home seeker, this neighborhood stands out for its large spacious lots, many of which have beautiful, mature trees. Most Carriage Hills homes are one level, ranch style brick or limestone houses, with tasteful remodels to be found throughout the neighborhood.
Special Features
: This neighborhood is a wonderful space for families, as Fredericksburg Elementary School is close by.
The Preserve at Walnut Springs:
With no two homesteads alike, this ruggedly beautiful ranch development offers 5-7 acre properties nestled along Towhead Creek with elevations overlooking miles of Texas Hill Country.
Special Features
:
The Preserve is surrounded by 1,500 acres of protected open space, and residents have access to a greenbelt of meandering creeks and oak-covered hillsides.


A 3,000 square foot clubhouse offers deep-covered porches and breezeways for residents to enjoy, along with 14-foot ceilings, long leaf pine floors, a fully-equipped kitchen, fireplace, swimming pool, lap pool, bath house and BBQ area.
Address
:
193 N. Walnut Springs Dr, Johnson City, TX 78636