Many of you have been asking "So, can I still get an STR permit?"
As Realtors and residents of this area, we understand the importance of protecting our community by honoring the new STR ordinances. We often get asked this permitting question. So, let's address it. The quick answer is….it depends.
First, let's talk about the basics.
1. What is an STR (Short Term Rental)?
"The City of Fredericksburg defines Short-Term Rentals (STRs) as a privately owned dwelling, including but not limited to, a single-family dwelling, multiple-family attached dwelling, apartment house, condominium, duplex, mobile home, or any portion of such dwellings, rented by the public for consideration, and used for dwelling, lodging, or sleeping purposes for any period less than thirty (30) days."
2. Do I NEED a permit to have an STR?
Yes. And no. "Per Section 5.401 of the Zoning Ordinance, any structure used for transient or guest lodging rented for compensation of a dwelling unit for a period of less than 30 days within the City Limits requires a Short-Term Rental Permit. However, Short-Term Rentals located in the Fredericksburg extra-territorial jurisdiction (ETJ) are not required to obtain a permit to operate." In other words, if you are out of the ETJ, you do not need to get a permit. However, there may be deed restrictions on the property, so read the fine print on your documentation before jumping in. See where your specific property lies within the ETJ map
here.
Here is a quick view. Everything inside of the red line is IN the ETJ.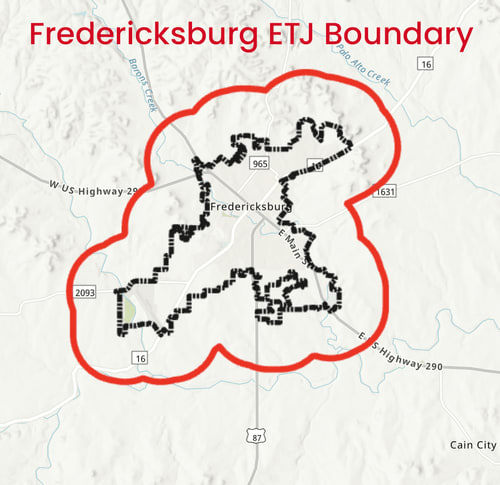 3. Why can't I just "do my own thing"?
"The purpose of the STR Ordinance is to establish regulations for the use of privately owned dwellings as Short Term Rentals, to minimize negative ancillary impact on surrounding properties, and to ensure the collection and payment of Hotel Occupancy Taxes." In other words, we need to have some rules regarding STRs to protect this amazing community for everyone that calls Fredericksburg home.
4. Where do I go to get a permit?
To apply for a permit, go to
this site
and create an account. Then, on the dashboard, under services, you will see "S- Short Term Rental Registration" where you can begin the process.
5. How much does it cost?
The application fee is $150 per unit, plus $100 per bedroom and will be valid for 1 year.
6. How long does it take?
As of right now (November 2022) be aware that the application timeline can vary depending on both staff's review and the responsiveness of the applicant. The general protocol is to process all applications in the order in which they are received, however, simple transfers and renewals are sometimes processed soon after they are received. The city is adding a number of new STR-specific staff positions to help expedite the process.
So, back to the question "Can I still get an STR permit?"
The simple answer is "yes." However, there are some stipulations you may want to be aware of before you apply to ensure you fall into the guidelines. It may save you some time and frustration down the road.
Permits depend on a variety of things including:
Where your property is located. Zoning districts may or may not allow you to establish your STR.
What type of STR you are wanting to permit. The different types are called Accessory, B&B, Condo, Facility, and Unoccupied.
What type of parking spaces you have available.
If you comply with TAS (Texas Accessibility Standards). (And yes, an inspection is part of the permitting process.)
If you have never operated an STR in Fredericksburg before, there are some things you'll want to be aware of, including:
Hotel Occupancy Tax (HOT): Every permitted STR is required to pay quarterly Hotel Occupancy Tax. Basically, you need to charge guests 13% to cover state and local taxes.
Exterior lighting guidelines: You'll need to follow these guidelines to protect Fredericksburg's Dark Sky Community designation.
Quiet Hours: Visibly posting quiet hours between 10 pm and 7 am is required for every STR.
Occupancy maximums: This is important to be aware of if you are wanting to permit a property for larger groups.
The City of Fredericksburg has provided some valuable resources for those interested in the STR permitting process, and the team at Fredericksburg Realty and Texas Ranch Realty is always here to answer any questions we can.