When one thinks of Hill Country real estate, the mind either goes to the increase in residential renovation and new construction, or the uptick in commercial development. Thanks to the Gillespie County Economic Development Commission, we have some interesting stats to share regarding how this area has been growing in the past few years. Let's break it down.
The map below (created by Gillespie County EDC) shows platted development since 1/1/2018.
Green = Subdivisions
Orange = RV Parks
Pink = Wedding/Event/Hospitality Venues
Yellow = Commercial/Residential
Purple = Winery/Tasting Rooms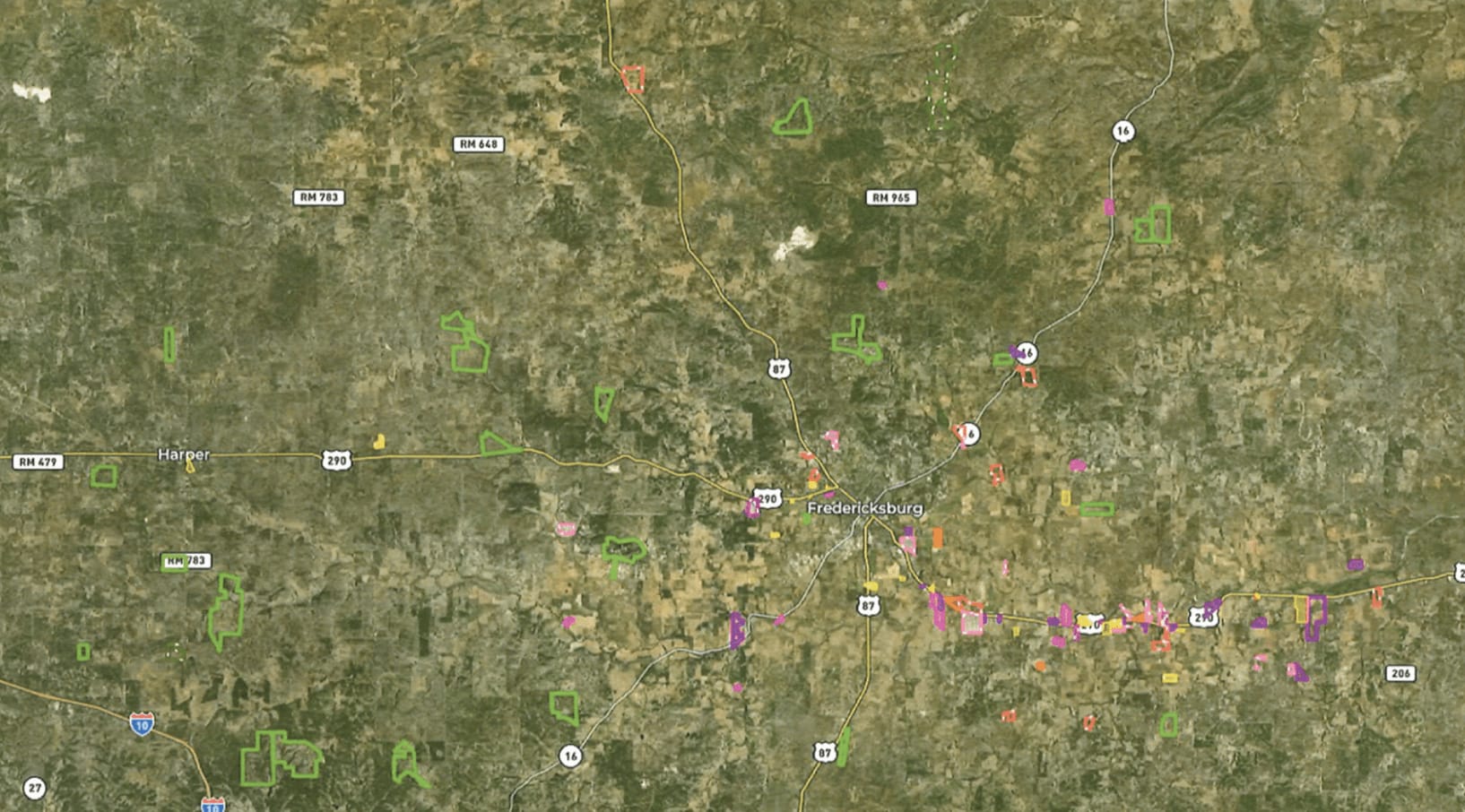 Clearly 290 continues to be the main artery for all types of commercial development but there is also a lot going on beyond the main drag. Check it out!
Since 1/1/2018:
9,066 acres have been developed or are currently pending for subdivisions

1,081 acres have been developed or are currently pending for RV Parks that include over 2,358 units

24 different wedding/event/hospitality or lodging properties have been developed or are pending.

35 Wineries and Tasting Rooms have opened or are pending
Again, thanks to the EDC, we can reach some more interesting statistics going back to 2008 to give us a 14-year picture.
Surprisingly, the number of residential and commercial building permits didn't vary much year to year except for a dip from 2011 to 2013. In fact, there were fewer permits in 2022 than in 2008.

Well permits have doubled from 166 in 2008 to 307 in 2022.
The real estate value statistics are, perhaps, the most notable. It's no surprise that there is a big jump between 2008 and 2022.
The value of residential real estate sales in 2008 was $58 million. In 2022, it was $264 million. That's a 355% increase.

The value of land real estate sales in 2008 was $33 million. In 2022, it was almost $130 Million. That's a 293% increase.

The value of commercial real estate sales in 2008 was $7 million. In 2022, it was $43 million.
That's a 514% increase.
Just to put this in perspective, Fredericksburg is not alone. There are small towns all over the country that are experiencing post-pandemic surges — especially those within a stone's throw of popular larger cities. (Like Austin, for us.)
Growth is inevitable. And we are grateful to have a strong economy and passionate leaders to help guide us into the future. Like Heraclitus, the Greek philosopher, once said, "change is the only constant in life" so the ability to adapt is critical.
When asked about business since 2018, Andy Bray with Mustard Design Architects said "Growth in development was strong leading up to 2018, and although both residential and commercial projects remain on the uptick through 2023, we have experienced the steady growth while managing hurdles like a Pandemic, a shortage of labor, an increase in project schedules due to material shortages, and new working environments including virtual platforms. Architectural design is collaborative in nature occurring best face to face, so remote work options with virtual meetings offered an opportunity for us to adjust while continuing to provide a personal approach to our work. Increases in tourism and people relocating to the Texas Hill Country has provided increased exposure of our local work, which has led to design opportunities across Texas. We have utilized the best practices from lessons learned during Covid and are able to balance the face-to-face collaboration of design with the convenience of video calls to interact and share our designs with clients."
We can't wait to see what the next 14 years bring!
Credit: Tim Lehmberg and the Gillespie County Economic Development Commission\
Whether you are considering selling or acquiring property, we would love to be your trusted real estate partner and advisor. At Fredericksburg Realty and Texas Ranch Realty, we stand by our word, our authenticity and treat each client like family.
Visit us at fredericksburgrealty.com or call us at 830-997-6531.
We invite you to follow us on Facebook, Instagram, LinkedIn and YouTube